Simple and undecorated, this scarf is triangular in shape and feels like a baby's blanket. Light on the head and simple to wear and at fantastic price. Comes in a large selection of colors.
Please note that this scarf is
not
long enough to be tied in the 'Classic' tie or even the 'Bun'. It is long to be tied once. This is an excellent choice for women looking for a lightweight headcovering. Check out also our
large triangular cotton scarf
for a scarf that provides more coverage.
Dimensions
:
130 x 90 x 90 cm
51 x 35 x 35 inches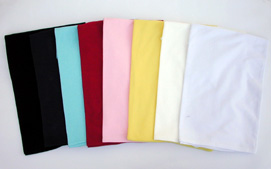 65% cotton, 35% polyester (lavendar not shown)
Small Triangular Cotton Scarf
Product Code: 259
Availability: In Stock