---
Selected Customer Reviews...
Click here to write a review!
Reviewer: sheryl Lynn from United States on 2012-02-02
"I love your triangle scarves. I would also like to see this in more colors. PLEASE make this one in stretch denim :)"
Reviewer: Vanitey from Huntsville, Al USA on 2011-01-14
"Thank you so much! I love the scarf. The quality is great, and it is very light! This is the best website for scarves so far. I am so happy that I found you guys! Now I can spice up my outfits and look great on shabbat! "
Reviewer: Carolyn from Bloomington, TX, USA on 2010-07-16
"My search for a comfortable, functional, attractive, and easy-to-use head-covering ended the day this scarf arrived in the mail! I love it. My husband found it and ordered it for me, and it is by far my favorite. Today I'm ordering one in each of the other colors. YOU NEED MORE COLORS!! I'd love several in white, beige, and perhaps a navy or royal blue. Thank you so much!"
Reviewer: Sarah from Midland Texas USA on 2010-06-19
"This is a wonderful scarf! It's very comfortable and great for daily wear. I love it!! "
Reviewer: A from Australia on 2009-01-28
"Probably my new favourite scarf. It is comfy, easy to tie and works really well over a tight snood. This is great for just throwing on when you are in a hurry."
Reviewer: Reenie G. from Orange County/Florida on 2008-09-28
"Wow!This scarf is everything I've ever wanted in a headcover - snug,soft,stretchy,lightwieight and comfy.It gives good coverage if your hair is shoulder length.My girls just love them.They wish you had more colors.Thank you."
Reviewer: Allison T. from Duval County, FL on 2008-01-30
"I got my order yesterday with all of my great headcoverings. I got the strawberry coloured scarf. I will be ordering more... :)"
Reviewer: Anonymous from California on 2007-07-08
"My mom bought me this scarf in black and I think it is VERY cute. It is small and lightweight, and though it's not long enough to tie in a decorative way, it still looks great. It isn't heavy, it isn't hot. It's just right! :D"
Reviewer: Lauren from Harrisburg/PA/USA on 2007-06-25
"This is the most comfortable tichel I have ever worn! It stays on so well and looks nice with everything! The stretchiness also allows it to be worn in a bun. After trying 1, I immediately came back for more! Thanks!"
Reviewer: Anonymous from Indiana/USA on 2007-01-18
"I purchased two scarves, and I am back for more! So comfortable and pretty. It has made my transition to covering all the time much easier. Thank you!!!"
Reviewer: devotedmommyof5 from Sheppard AFB, TX, USA on 2006-11-29
"I love this because it is easy to use and is easy care. It is very soft and comfortable. The only problem that "I" ran into was that it keep falling off(sliding back). I do not pull all my hair back; so i find it hard to keep in place. BUT i think that i will try to place it over top that single headband and see how that works! If you chose to use it by itself; be advised you will need to use clips or bobby pins to keep it in place! BUT i love the ease of use....very uncomplicated!!!"
Reviewer: Anonymous from Grimshaw/Alberta/Canada on 2006-11-16
"I just received my order. The scarves are soft and comfortable, and I feel more relaxed just wearing them! They hang very nicely and I don't have to use bobby pins to keep the back in place, as it does not flare out the sides."
Reviewer: Sarah from California, USA on 2006-03-10
"This has to be my favorite scarf. It's so soft and comfortable. It's also really stretchy and so you can tie it in many ways (I especially like crossing the ends in the back, then tying them over the bun or braid). This is a great scarf, and I'm really happy to have one!"
Reviewer: Sheena from Virginia
"I have only recently begun wearing a headcovering and the scarf I first started using was heavy and frankly~made me look like a cross between a pirate and a cancer patient! The heaviness made things difficult at work and I was quickly becoming frustrated! I needed to find a simple scarf that could be beautiful and practicle. I purchased a couple of these scarves and was SO pleased that I am back today to purchase a couple more! I, too, wear them in a bun and I don't have to worry about them slipping off. Only downside: not enough colors!!!"
Reviewer: Jamila from Jacksonville, florida, USA
"This is one of most comfortable scarf I've had in a long time. Simple but you can really do nice things with a headband. Good soft quality."
Reviewer: Patricia from Lawrenceburg, KY
"I love this covering! It is by far the most comfortable scarf I've ever owned. No more clippies, either. I'd love to have one in every color. More colors, please?!"
Reviewer: Tiffany from Tucson AZ
"This is a wonderfully easy scarf. It fits easily and feels wonderful. It works really well with accent scarfs too!"
Reviewer: Jennifer from Houston, TX
"This is a great headcovering for women new to headcovering. It is very simple to tie and stays on well. Very fuss-free and comfortable."
Reviewer: Jada from IL, USA
"This is my favorite covering. It is a bit stretchy so it can be done in a bun tie and it helps it stay put. I would have one in every color."
Simple and undecorated, this scarf is triangular in shape and feels like a baby's blanket. Light on the head and simple to wear and at fantastic price. Comes in a large selection of colors.
Please note that this scarf is not long enough to be tied in the 'Classic' tie or even the 'Bun'. It is long to be tied once. This is an excellent choice for women looking for a lightweight headcovering. Check out also our large triangular cotton scarf for a scarf that provides more coverage.
Dimensions:
130 x 90 x 90 cm
51 x 35 x 35 inches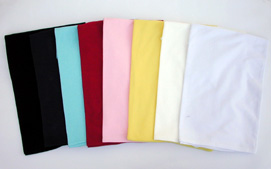 65% cotton, 35% polyester (lavendar not shown)


Send a 'hint' to a hubby, parent or friend about this item!