---
Selected Customer Reviews...
Click here to write a review!
Reviewer: Sarah from Midland, TX, USA on 2010-06-14
"This is a fantastic product!!! The scarf is stretchy, durable, and doesn't slip easily. It lends itself well to being tied in the classic tie or the bun, and it looks very nice either way. And most importantly, it is the most comfortable scarf I have ever worn. However, one thing I believe is important to let customers know, is that this scarf is not 100% cotton. It is 65% cotton and 35% polyester. This could potentially be a big help for anyone who tries to wear "kosher" clothing. But the poly-cotton blend makes no difference to me! I love this scarf!! Thank you Tznius!!!!"
Reviewer: Molly from San Diego on 2008-10-06
"These are super comfortable, soft, and they stay put on your head. They're kind of like spandex material, stretchy and really comfortable. The back tail isn't very long, as the other reviewers stated, but for a bun it's perfect. It's truly the most comfortable scarf I've ever had, and I have a LOT of scarves."
Reviewer: Anita Ann from Hemet, Ca USA on 2008-05-22
"Very nice with lots of coverage."
Reviewer: Holly from Indianapolis on 2007-07-07
"Very good product, really soft. My only problem is that it is not very big. The back is not very long at all. I have thick long hair and if you do I would not get this. But if you do just tie your hair up high. "
Reviewer: Darla S. from Ellensburg, WA, USA on 2007-06-25
"These scarves are so comfortable and well made! My only "problem" with them is that they are not as large as it seems in the photos. I should have paid more attention to the printed measurements. The "tails" are fairly long, but the distance from the front hairline to the back point of the triangle isn't as long as I'd hoped (I was wanting to do the braid tie but there isn't enough material for the middle piece). I'm still using them plenty (I wore one all day today and it hasn't slipped at all), just not in the way that I'd planned."
Reviewer: Sarah from Central Coast, Ca on 2007-05-13
"Wonderful. Stays very well, good if you're being outdoors/active, very versatile! Definately one of my most used coverings."
Reviewer: Penina from Palm Beach Gardens, FL on 2007-03-18
"OK, usually when I write a review, it's to WARN people about a product. I don't really have time in my busy schedule to go to websites and write positive reviews. However, I have to reorder this scarf (I can't find it anywhere!) because it is the only thing I find truly comfortable on my head. In fact, I didn't even appreciate the scarf so much until it was gone (it will turn up somewhere one of these days). But two weeks without it and it's worth for me to just buy a new one. I.LOVE.THIS.SCARF. Thank you!"
Reviewer: Susan from Hermiston/Oregon/USA on 2007-01-10
"This was my first covering and I am thrilled with it. The scarf stayed in place all day without any pins or clips. It is long enough to cover all my hair. THANK YOU so much. I'm back today to order more."
Reviewer: Ruth from UK on 2006-11-22
"COMFY! : )"
Reviewer: Paola from SW on 2006-11-14
"I purchased a black scarf. And its great ! The quality of the fabric is great. Cotton and polyester, and its so soft!! It is a great price for such a good quality of fabric. Its already a favorite."
Reviewer: Mary from Cocoa, Fl
"I have purchased the white triangular cotton scarf with ribbon. I where it out, but use it mostly for Sabbath. The ladies really enjoyed this scarf. I like the elegant look it achieves, it really is very complimentary. I recommend this scarf especially because of its light weight comfort, easy tieing, and all around popularity."
Triangular cotton scarf. Easy to tie and washLo, a great all-day headscarf. Long end of triangle measures 170cm for easy tying, and length of scarf (measured from forehead to back of 'ponytail') is 60cm. Please note that these scarves DO NOT have a ribbon. 100% jersey cotton. This scarf is also available in Black Velvet.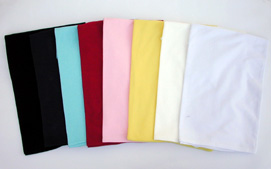 (lavendar not shown)


Send a 'hint' to a hubby, parent or friend about this item!